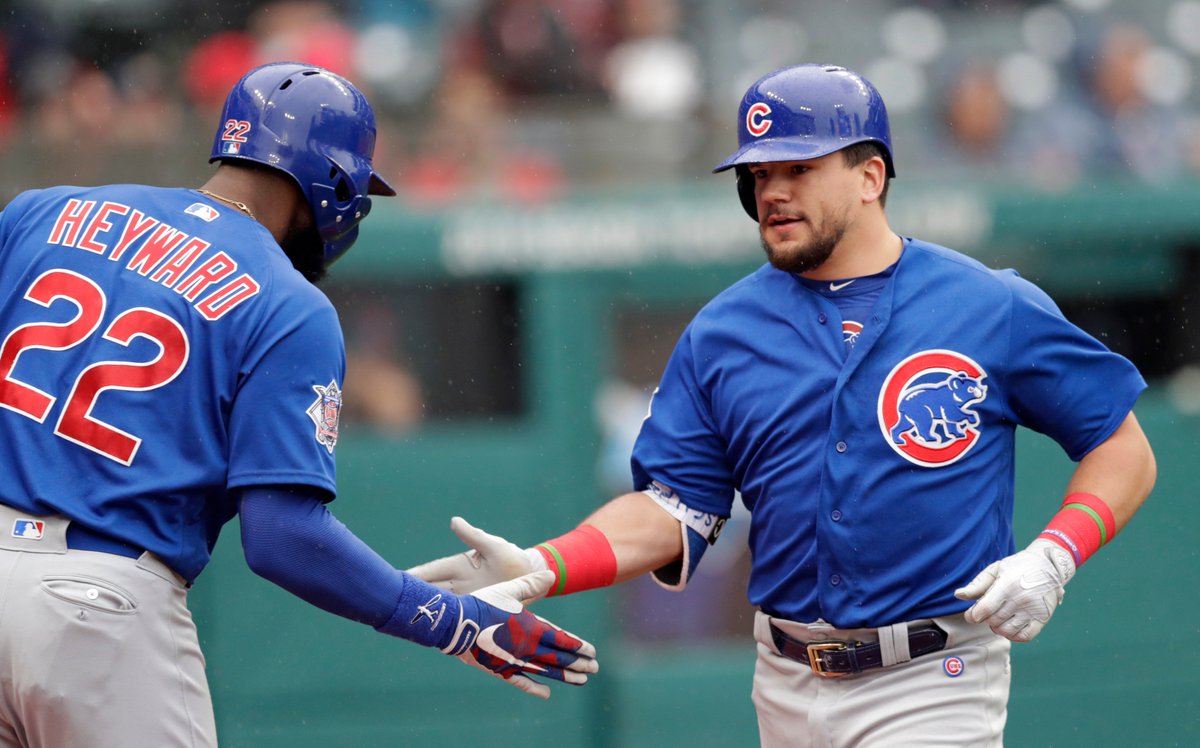 The Cubs mauled Cleveland 10-3 It was the Kyle Schwarber show with two home runs and the Cubs offence was on display in the onslaught. According to the stats, Schwarber feels really good  at Progressive Field going 15-30 including three home runs.
That's pretty crazy.
"I always thought this was a good park to hit in," Schwarber said with a shrug. "It's been a good start so far. Always trying to get better. Had a guy on third with less than two outs and didn't get him in. That's a free RBI there. And I want to pick those up."
Yes you do Kyle. There's an old adage somewhere, perhaps there should be one but home runs don't win ball games, RBI's do.
That being said, Schwarber's legend was cemented in the 2016 playoffs. In case you folks don't remember, he came back from a season injury only to hit .412 that post season. So, it shouldn't come as a surprise that Schwarber loves Cleveland.
"He's from Ohio, right?" Cubs manager Joe Maddon said of Schwarber. "Obviously, he sees the ball well here. The first time he showed up it was his premiere. That was all adrenaline. The World Series was adrenaline. And right now he's been swinging the bat well. So he shows up in Cleveland at the right times."
Kris Bryant missed yesterday's game from the injury he suffered in Colorado. There's no cause for alarm. I hope he's all right.
"He wanted to see the doctor and do all the normal stuff,"  Maddon said. "I think he's fine. He just has to work through some things."
The Cubs are finally past the .500 mark and gaining a little bit of the momentum back after their shaky start to the season. It's a long season, but the Cubs' record sits at 11-9 not perfect but two games back of Milwaukee, and I have it on good faith that the Cubs won't allow the Brewers to take the division.
Today, Jon Lester gets the ball. His arm's getting loose and he's coming off a shutout win over St. Louis. Warm weather is here and the Cubs are getting it together!
Believe it