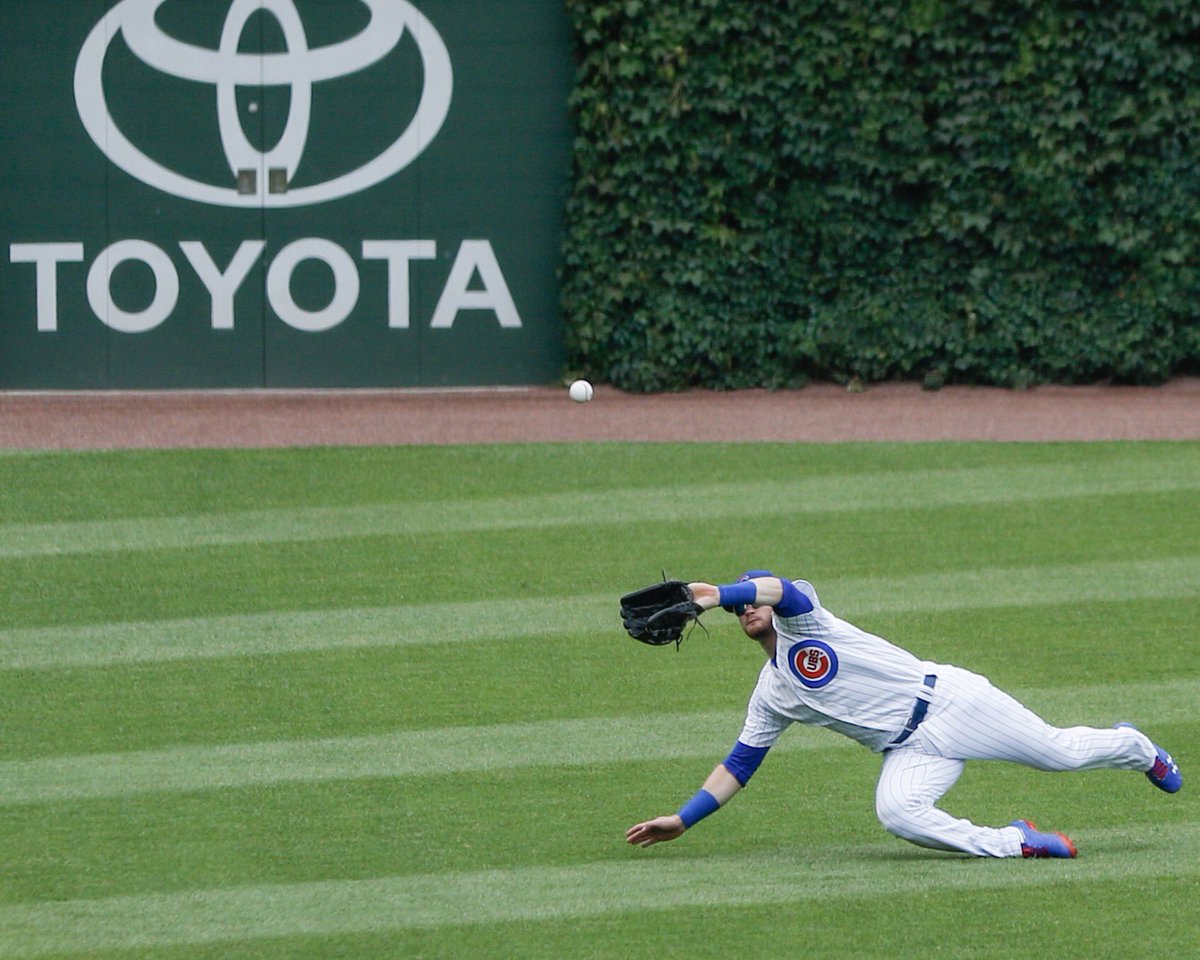 Um, Ian Happ was incredible in yesterday's 3-1 win over the Pirates and Kris Bryant was next to awesome in the leadoff. Bryant has been in a little bit of a slump lately and Joe Maddon being Joe Maddon decided to mix things up and try the other half of the Bryzzo team in the leadoff position. It was Bryant's first time in the spot and it worked. He went 3 for 4 and of course, the Cubs won.
"My expectations of myself are high and I get frustrated with myself easily, because I expect a lot of myself and my teammates expect a lot of me and I want to give it all I've got," Bryant said. "Sometimes, when you don't feel right in terms of mechanics and stuff like that, it's frustrating. That's kind of where I've been at. I think there are a lot of people who would love to trade what I'm doing this year, and that's my perspective now."
Another guy in a slump is Ian Happ but yesterday his glove was on display catching three amazing grabs out in the field.
"I was kind of fueled by being told I couldn't play a bunch of defensive spots and being labeled as a hitter only and a minus defender," Happ said. "Being able to make the plays and help the guys is all that matters.
In the end that's all that matters. The Cubs are still a half game back of Milwaukee and slowly catching their second wind in the standings.
So, we know that Anthony Rizzo has had a slow start this season but lately he's been on a tear and appropriately, a few years ago Joe Maddon stated that "When Dexter Fowler goes, we go" Now that Fowler is no longer a Chicago Cub, Anthony Rizzo, their fearless clubhouse leader has graciously stepped up into that role on the team. In an article by Cubbie's Crib, they talk about that phenomenon with the Cubs that they're winning when Rizzo is hitting. It's true, moments before Jason Heyward hit his grand slam the other day, Rizzo predicted it would happen.
The Cubs are playing great ball at the right time. It was after the All Star game last year when they put on the jets to turn the season around but doing it this time gives them a great cushion. There's no doubt the Cubs are going places but the key to a successful run now is Yu Darvish. Or do they really need him?
Believe it